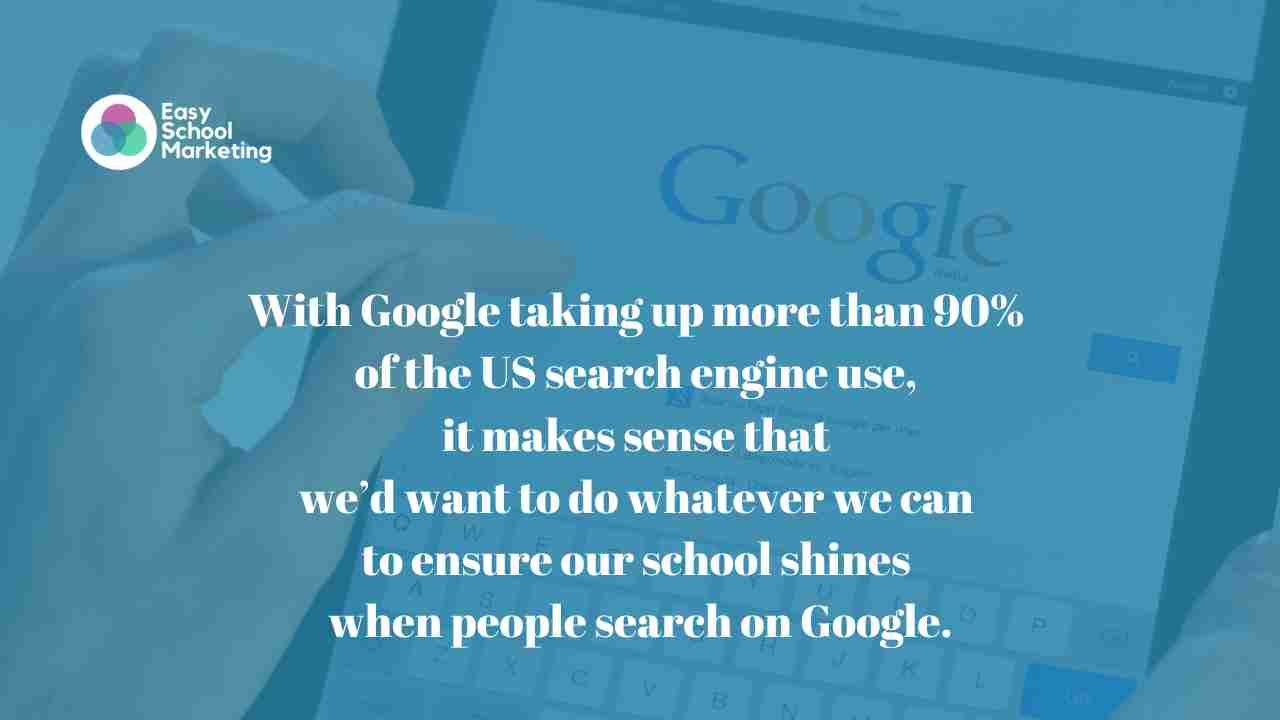 Google Business Profile: How An Optimized Listing Can Help Independent Schools Reach Marketing & Enrollment Goals
Apr 08, 2023
How much time does your school spend on creating content and scheduling posts for social media? Even if your social media presence isn't robust, you're at least thinking about how it needs to be improved.
Yet, there's a tool that is underused but arguably just as impactful as social media: Google Business Profile (GBP).
After running countless Online Brand Visibility Audits for independent and private schools, I've seen many unclaimed and unoptimized Google Business Profile listings. Despite the many benefits of GBP, schools don't often realize the power of this free tool.
With Google taking up more than 90% of the US search engine use, it makes sense that we'd want to do whatever we can to ensure our school shines when people search on Google.
One of the cheapest and easiest ways to do this is by optimizing your Google Business Profile. In case you're contemplating ignoring GBP because your to-do list has grown to untold lengths, I suggest you reconsider.
Why use Google Business Profile?
Your school's GBP shows up on mobile devices sometimes before your website on searches.
An optimized GBP listing can help with search ranking.
Prospective families can easily view and compare your school ratings with others (so if your listing isn't optimized, families may not even contact you!).
GBP pulls rankings from other sites - including Facebook, Private School Review, Great Schools, and more - into your school's profile.
GBP allows your school to showcase photos and videos that bring your school to life.
Schools can use the GBP event feature to highlight admissions and fundraising events to the wider community.
The GBP services and product features allow schools to showcase programs, enrichments, activities, camps, and more.
Your school's GBP is used on Google Maps for directions.
This is an incomplete list—I could go on and on about how GBP can help your school meet its enrollment and marketing goals.
We often suggest that schools set aside one hour to set up their Google Business Profile and then take 30 minutes to one hour every four to six weeks to update it. This small investment of time to set up and manage your GBP is worth the numerous benefits.
Tell me, have you optimized your Google Business Profile listing?
If you're looking for help setting up your GBP and planning out your marketing efforts for next year, let's chat.
If you're interested in booking our Google Business Profile workshop for your school, association, or organization, schedule a call to learn more.