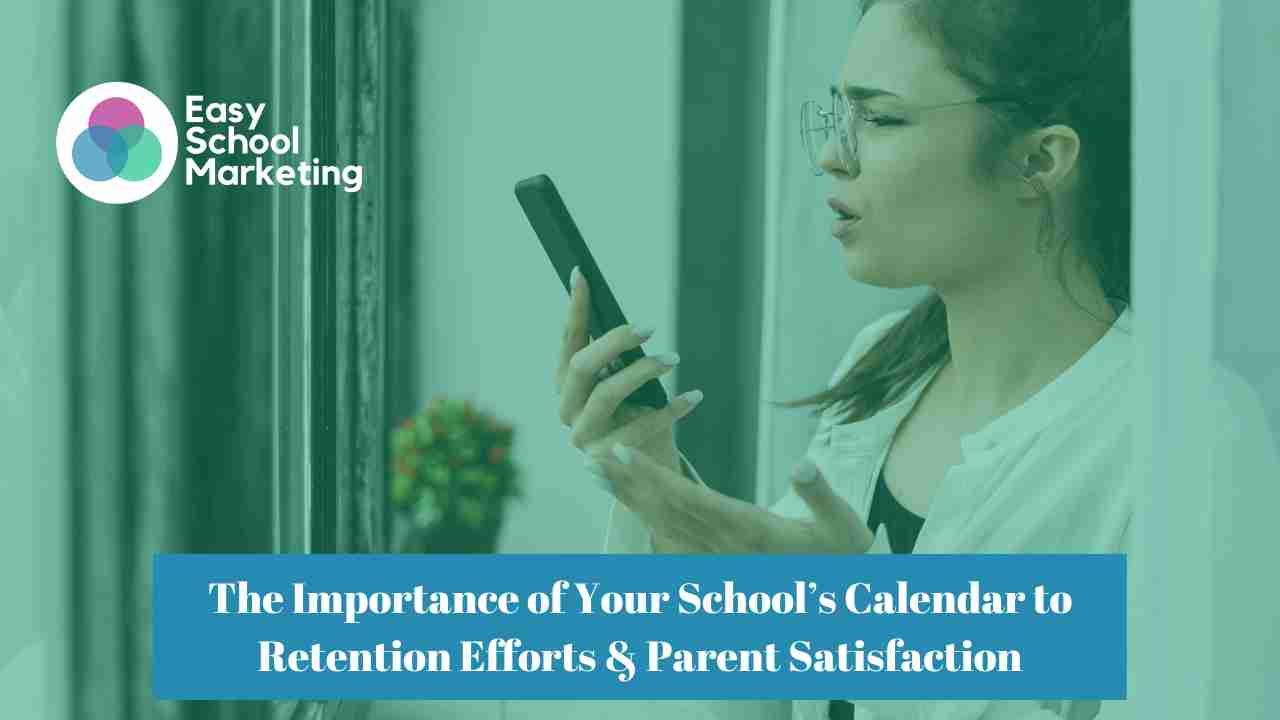 The Importance of Your School's Calendar to Retention Efforts & Parent Satisfaction
Apr 01, 2023
As we head into spring, this is a great time to plan for next year. Let's chat about a frequent challenge area for schools — calendars!
Today's parents are busy, busy, busy. They've got work, sometimes multiple school schedules, social obligations, and a gazillion extracurricular activities to manage.
That's why a school's calendar is one of the most important things a school can invest in. Parents need to plan ahead. They need to know when things are happening and what they or their children need to attend.
While interviewing parents for market research studies, one of the most common complaints we hear is about a school not effectively communicating events, activities, and other important information to parents.
An accurate, robust, updated, and accessible school calendar can negate many of these concerns.
Let's discuss some important elements of effective calendaring:
We live in an age of complicated schedules and that's not going to change anytime soon.

That's why it's imperative for schools to release dates to parents months - sometimes a year - in advance for parents to plan properly.

Certainly, your key calendar items like spring break, winter break, and school year start/end dates are important. But so are things like community events, class gatherings, parent-child activities, conferences, and more. Often schools remember the major dates but forget to add the "little things" like field trips, class-specific activities, and testing dates. It all helps!

We've all been there - a meeting gets moved, or an event has to be rescheduled.

What makes this already frustrating situation far worse is when schools don't have a system for communicating event and date changes.

Who is in charge of the calendar? Who communicates the changes? How do we ensure affected families know?

Parents are much more tech-savvy than in the past.

How many parents do you know that rely on their Google calendars to remind them of their family's schedule?

That's why schools should consider using a calendaring system that syncs with popular online calendars and apps.

We often think that if we tell parents something once or twice they'll get it. But with busy parents, reminders are necessary. This is also true for

educating parents about how to access, use and sync the school's calendar.

It's something that needs to be done frequently using multiple communication channels.

Teachers and division heads often plan activities and events.

Yet unless there is a process for getting that information from the classroom/meeting/email onto the calendar, things can get lost

. A system for collecting classroom, grade, and level activities from teachers and administrators would greatly improve the school calendar's accuracy and reduce frustration among parents.

A calendar item is only as good as the information it conveys.

If there's no description of the event, including the purpose, desired participants, reasons for attending, and the level of importance (e.g. is attendance highly encouraged, mandatory or optional?), then it's hard for families to understand if this event is relevant to them.
This is, of course, not a complete list of calendar best practices but I hope these tips help you plan for next year.
If you would like help mapping out next year's marketing, enrollment, and development plans and calendars, contact us to schedule a Half-Day Strategic Consulting Session!